FAI Automotive Viscous M57 Harmonic Balancer
Regular price $274.00 Sale
At long last, a cost effective solution to the failing oem M57 harmonic balancer! WPI has secured the sole USA distributorship with FAI to bring these over!
This is a hybrid design damper that uses both rubber and viscous elements. This negates the absolute necessity for a clutched alternator pulley to eliminate belt squeak at idle with a viscous only damper. However, a clutched alternator pulley is still a fantastic upgrade with it's own benefits and should be strongly considered. Made in Turkey by FAI Automotive, the damper carries a manufacturer 3 year unlimited mileage warranty standard. However, if you have a failure outside of the 3 year warranty, WPI will replace it at no cost and no questions asked. 
Purchasing options:
-Damper only with 4 mounting bolts
-Damper, 4 bolts, INA clutched alternator pulley, and alternator pulley spacer 
Viscous Dampers Design
A viscous damper has a sealed outer housing with a precision machined hub. Inside of the housing is an inertia ring with a viscous fluid (specialized silicone) filling the cavity.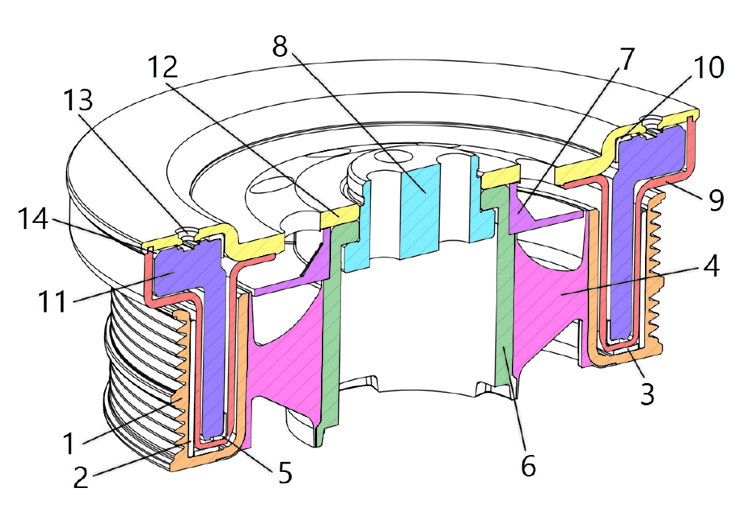 | | |
| --- | --- |
| 1. Groove | 8. Inner Hub |
| 2. PTFE Bushing | 9. Inertia mass housing |
| 3. Plastic Bushing Plate | 10. Slide Bearing |
| 4. Rubber | 11. Inertia mass |
| 5. Slide Bearing | 12. Cover |
| 6. Main Hub | 13. Viscous Fluid hole |
| 7. Propeller | 14. Viscous fluid gap |
Included 12.9 sockethead capscrews torque to 60lb/ft without thread lubricant. They generate a higher clamp load than oem stretch bolts and are reusable.